Ok, so most of you have seen the majority of my powder room though my posts on my herringbone floor and on my brushstrokes art. But I just finally finished my window treatment and I figured it was time to get the whole room and some sources up on the blog.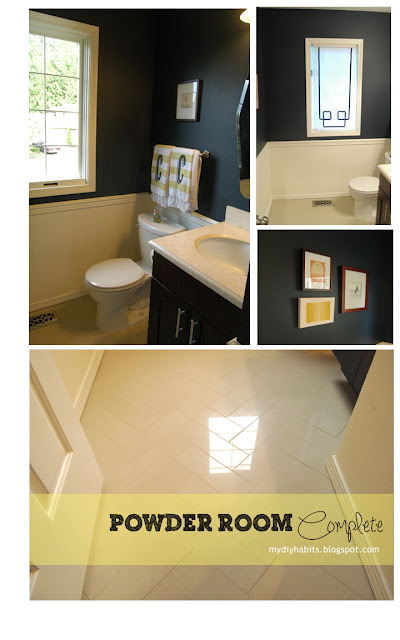 Here is a list of the steps/work we did on the Powder Room Remodel. The whole room was completed on a very tight budget (and time line), so my dad and I did everything ourselves – we were the demo, the contractors, the plumbers and the electricians!
**Where possible I added links to some of the products we purchased…just in case anyone wants to close and personal with some of the items.
Removed wall paper (just used fabric softener and it pealed off, I got lucky!)
Primed the room – Zinnser 123 latex Primer(previous owners used oil paint)
Painted Every Inch – Top Half; Hale Navy Benjamin Moore. Bottom Half; Mountain Peak Benjamin Moore
Demoed everything – and kept nothing – it felt so good
Added new sub flooring
Tiled floor – read about it here
Installed a new toilet
Installed a new shaker cabinet & granite counter tops (purchased from Pius in Sodo)
Pluming – a few minor adjustments to the alignment of pipes and my Dad rocked this one out.
Added accessories:
new light fixture (found marked down at Seattle Light, installed by yours truly)
New Window treatment – DIY (post on this will be up tomorrow!)
Art by Liz McDonald
Well I hope you enjoy this room as much as I do. My Dad and I worked HARD on this project. We definitely bite off a lot, but we nailed it and every time I step in there I just get so happy. Happy because I love how it looks, Happy I saved major Benjamins making this a DIY project and happy I got to spend so much time with my Dad!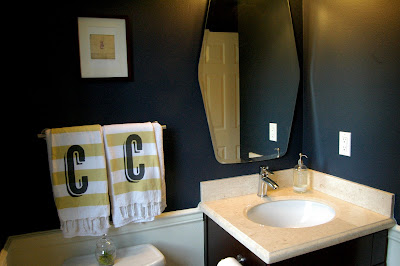 One final shot, Now Put a Fork in It this room is DONE! Boomshakalaka!!!