First things first….are you wasting ridiculous amounts of time on Hometalk like me? If your answer is No…then what the heck!!! Are you living under a rock!!! This site is amazing for DIY'ers and Crafters like me. You can upload your own projects…clip and share other peoples projects and create boards of like projects that you are inspired by. One of the things I love most about this site (as apposed to other "image" clipping sites) is that a project typically has multiple pictures, details, level of difficulty, time and $ spent…and a link to a blog! Yes, a lot of bloggers use this site. Seriously an amazing tool to aggregate inspiration, how to's, and follow bloggers you love! So shameless plug insert here….here is a link to myDIYhabits Hometalk Page if you want to follow me!
Now..to get to the point…this week the amazing people and Hometalk asked me to curate a board of some inspiring Fence Projects posted by other Hometalk users. So here are 17 super cool project around DIY Fencing, Reclaimed Fencing, and a few cool things to do with your old fence planks!
Click on the the below image for the link to my Reclaimed Fencing Clip Board and get inspired!
And while you are visiting…sign up, I can guarantee you will thoroughly enjoy it! But you can't blame me for any future addictions you may develop with this site!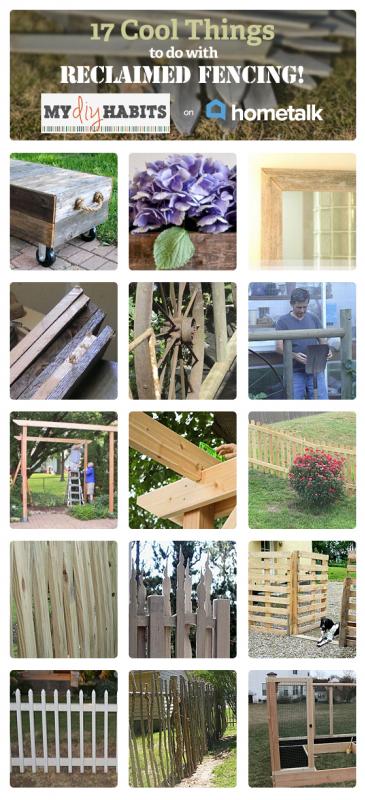 If you are interested in some of my Fencing Projects Check out: