OK…so I'm back to share a little progress on the Den Fireplace Overhaul aka what the heck was I thinking project!
Every time I think GRRR ENOUGH WITH THIS DANG PROJECT I have pull up my inspiration to keep me motivated…the clean look and additional storage is exactly what we need!
To remind you all here is where I left off…I had just added furring strips and drywall to cover up the brick.
Den Fireplace Project Phase 1 || Adding Drywall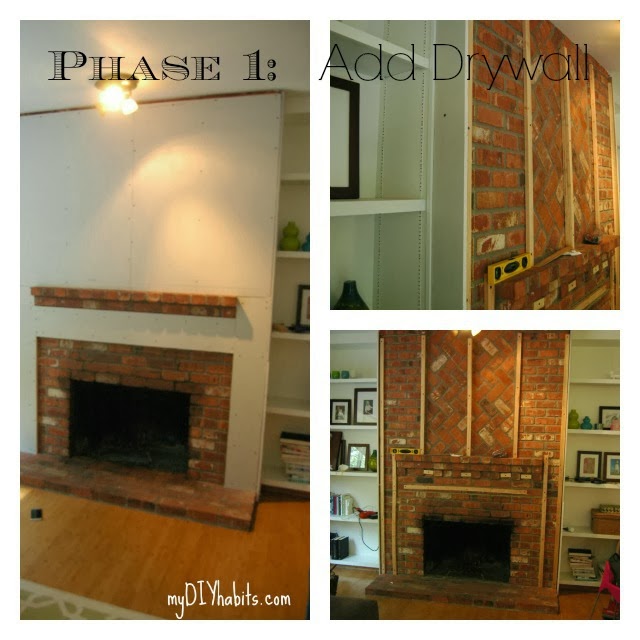 Den Fireplace Project Phase 2 || Tape, Corner Bead and Make Seamless
For phase 2, I didn't take "how to" / "process" pictures. This step was way harder then I thought it would be and even if I did have pictures to share they would only show what NOT to do! Remember…I'm no professional and this was my first shot at drywalling. I had to re-do the seam tape and corner bead a few times to get it right. So to start I will share with you a few really great videos of professionals that I watched on YouTube and then I will share materials I used and lessons learned.
How to Tape Drywall Seams:
How to Tape/Add Corner Bead:
So if you feel like crying, pulling your hair out and pushing yourself to the DIY limits help your self to a dry wall project! Hands down hardest part about this project was not being able to throw back some tall boys as I fumbled my way through this process!
Materials I Used for Adding Drywall Seam and Corner Bead:
What I learned:
1) First lesson learned is DON'T use powdered joint compound. That stuff is so hard to work with and it dried out faster then I could get it on the wall! I went back and got the pre-mixed stuff and was very pleased.
2) If at first you don't succeed….try again. One great things about dry walling is that it takes multiple attempts to achieve a smooth finish. It was very easy to get discourage when things weren't going my way, but in time (like 6 or 7 attempts) I got this baby smooth and lookin' good!
3) If I ever need a really impeccably smooth surface….I'm calling a professional! The majority of my fireplace enclosure doohickey is going to be dressed with molding so a lot of the imperfections will be unseen! Lucky for me because there is a lot of imperfections!
So I hope I didn't scare anyone away from trying this project! It has been difficult at times and certainly stretched my DIY creativity. But every time I think YOWZA that was a DOOZIE, I remind myself how much money I'm saving DIY'ing. It may not be perfect, but I am proud that I'm building this thing on my own…yay for girls who use power tolls!
So next week I'll get to adding molding and building out my new mantel!