ok Facebook page is finally up and running! Don't forget to follow along!

So…you know that project that hangs over your head and every-time you look at it (or in my case sit on it) you think "what the heck… finish that already". Well, it took me 1 year to complete the most simple and cheap upgrade…but I finally upgraded our new thrones!
I found these chairs on Craigslist last year and I just adored the high backs and circular design and they were in great condition. Best Part – we paid $75 for 5 chairs and 1 captains chair. (The seller felt bad for us because we were actually trying to buy the table too, but she sold it before we got there.)
Andy look away now…Helpful Tip: I find that Guilt is a great negotiation tactic, don't be afraid to negotiate on craigslist!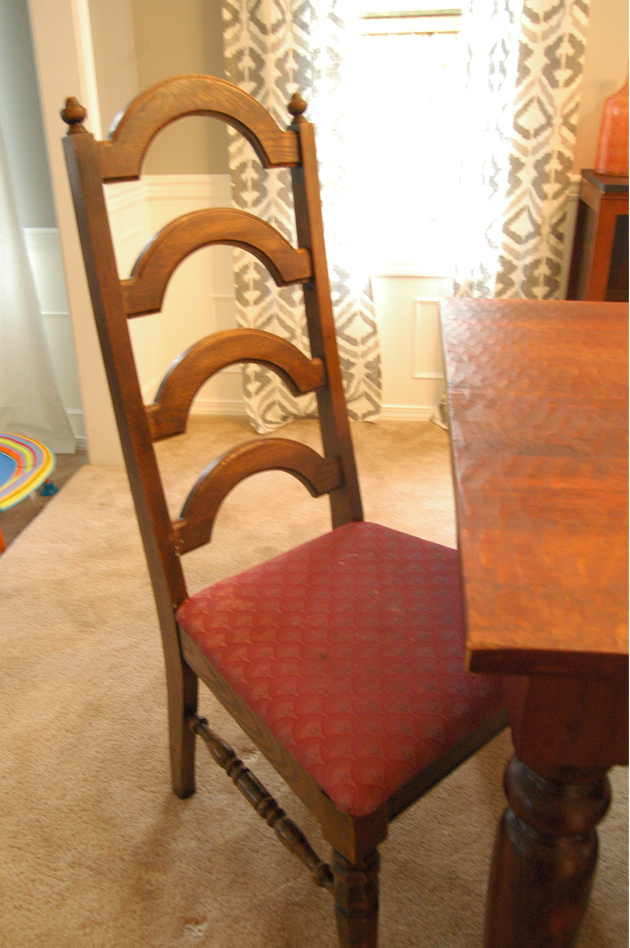 As you can see the chairs are in great shape…but the dated maroon fabric was a tosser!
Last weekend I found a spool of gray velvet on the markdown rack at Jo-Ann's – marked down to $8/yard.
(For those of you thinking how the heck do you have time to go to Jo-Ann's…i snuck by after a ragin 3 year old birthday party at Wiggle Works – Savannah was so hooped up on cake she didn't know what was going on!)
And all i needed was 2 yards to cover 6 seats – at $8/yard I was felling like a lucky duck! Andy got rolling on unscrewing the chair seats while I put Savannah down for the night, then as soon as she was sound asleep I whipped out the staple gun and got busy.