Seriously what is wrong with me….I just can't stop "projecting". I may actually have a problem. I have too many half finished projects (master bedroom, garage, new fence) and I'm already planning a new BIG project! I'm seriously married to the most patient man ever…love you Andy!
I think pinterest is to blame for my DIY ADD…while I love the accessible knowledge and inspiration at my finger tips…I can't stop myself once I get a new "idea" in my mind. At times like this I have to remember the words of my dear friend Brad C. While his wife Ashley and I spend hours conjuring up all the changes we want for our houses….he sits calmly and says "ladies…ladies…remember…it's not a sprint…it's a marathon!" So funny….who is he kidding! I have an itch I just can't scratch and that itch is my new obsession with Fireplaces! So no thanks to pinterest and photoshop…I now have a MAJOR fireplace project that I want to start like yesterday. One major hiccup is I only have the current DIY knowledge and experience to complete 1/3 of the project. YouTube don't fail me now I have a lot of learning to do!!!
So here is the current shot of our Den/TV Room
It's cozy…nothing wrong …but there is soooo much more we can do in this room!
#1) Amazeballs marble tile around the fireplace
#2) Add cabinets to the lower portion of the built-ins to increase storage space
#3) Rid this word of the horrible brick and cover it up with drywall
#4) Redonculously amazing wood work that makes visitors say "oh snap"
I'm thinking something like this…
Now I'm sure some of you are thinking "oh brick it's so cute, vintage and charming "…but our home was built in the 80's, it's much more of a traditional style home and in our neck of the woods…we are surrounded by new construction which absolutely does not have floor to ceiling brick fireplaces! Keeping the brick or even painting the brick only holds our home back…plus how snazy is the fireplace with all that molding and woodwork!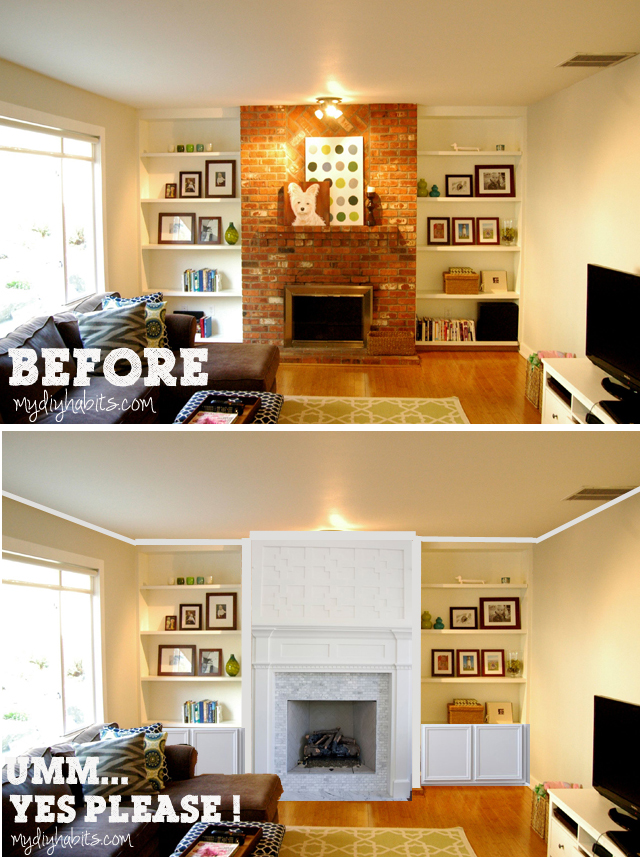 This transformation would make such an impact! We would finally have a place to stash/hide the toys and the room would be so much more luxurious!
And while I'm at it..I think I will finally take out the old tile surrounding the living room fireplace and add in some carrera marble tiles.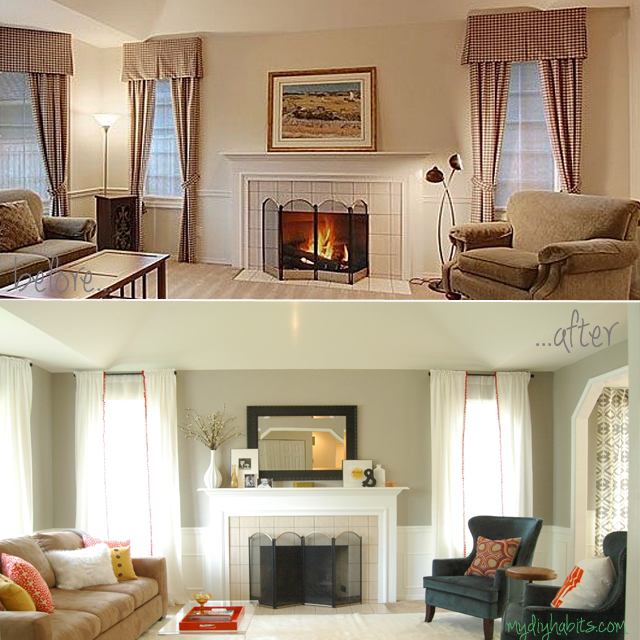 Don't you think some beautiful marble mosaic or even a herringbone pattern would look lovely…oh I'm so itch-in' to get started!