Let's get to the point….file cabinets are Not Cute! Sure some have vintage charm, but most are just plain ugly. But when I actually get around to filing I feel like I deserve to be greeted with something fantsy pantsy…so I got a little cray cray and whipped up this new and improved Dorothy Draper inspired thrift store Filing Cabinet!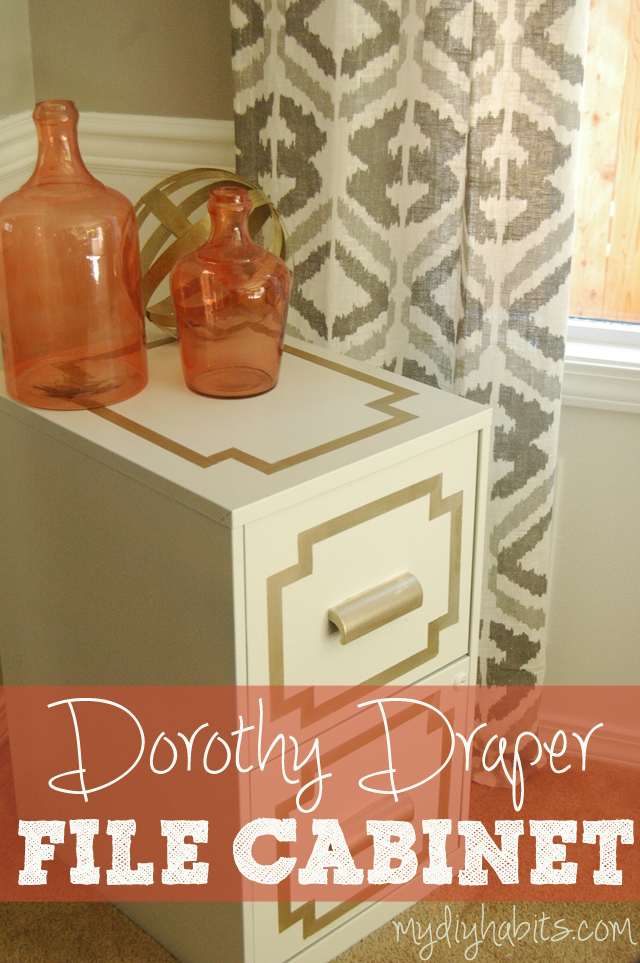 But first, I have a bone to pick with Goodwill. I don't know if the rest of America is suffering from the recent glorification of thrift shopping (umm…thanks Macklemore) but here in Seattle its getting a little RIDICULOUS. Do you know that I passed up 3 very similar file cabinets that were priced at $15-$19!!! WHAT THE HECK…seriously still in shock over here. Worst part is someone got swindled they were sold in no time! My husband is so thankful that I found this one for $5.99….serisously he's really good at faking interest but I know he could careless about the current wrinkle in my relationship with goodwill. And if you don't care either…we'll shame on you. Just kidding please feel free to skip to the next picture..I don't take offense!
And here is another shot of this super fabulous vehicle for organization…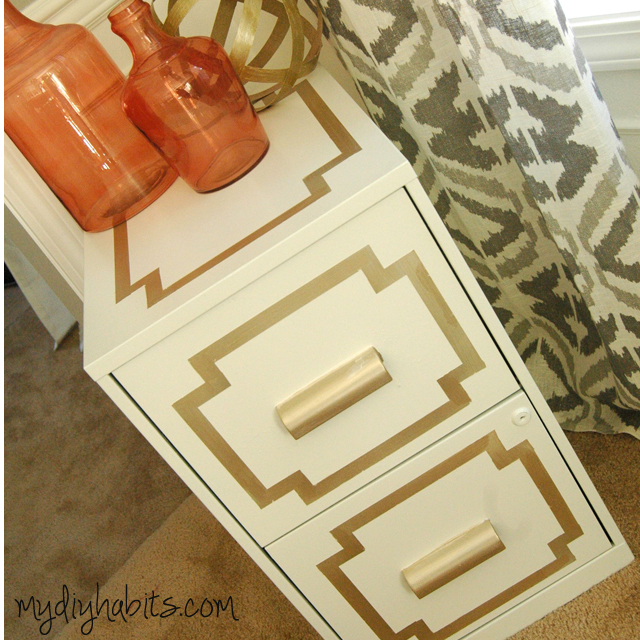 Dorothy Draper File Cabinet Supplies and Cost Breakdown:
File cabinet – Goodwill $5.99
Zinsser Primer (I went with oil base) – already owned
Martha Stewart Gold Paint in Golden Pearl – $5.48 (a little goes a long way!!!)
Painters Tape – I prefer frog but any works
White Paint – spray paint or latex and use a spray gun
Total Cost: less than $8
Dorothy Draper File Cabinet How To
Fist clean very well…dawn and water, or rubbing alcohol, or de-glosser. Then prime. For metal and ceramic items I typically use a oil based primer because it bonds much better.
Next I painted the drawer Fronts and Top in gold…but I had a major accident…the paint crackled! If this hasn't happened to you well, then your in luck. I'm pretty sure it is related to poor cleaning and/or heat. It was cray cray hot when I was projecting and since we rarely experience this in Seattle I wasn't thinking! Spray paint is very testy in the heat.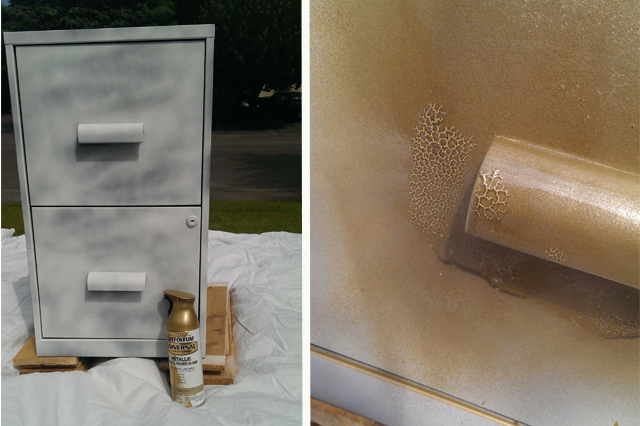 So I waited for the paint to dry – like days for the paint to dry – and then sanded out the crackle. Then I drove my butt to Home Depot and found this Gold Martha Stewart Paint. I think I'm in love. I'm super happy with the gold shade too…it's a bit more "mink" then my gold leaf…which was perfect for this project. The 10oz can is only $5.48..which I appreciated and no this is not a sponsored or post…I just really liked this stuff!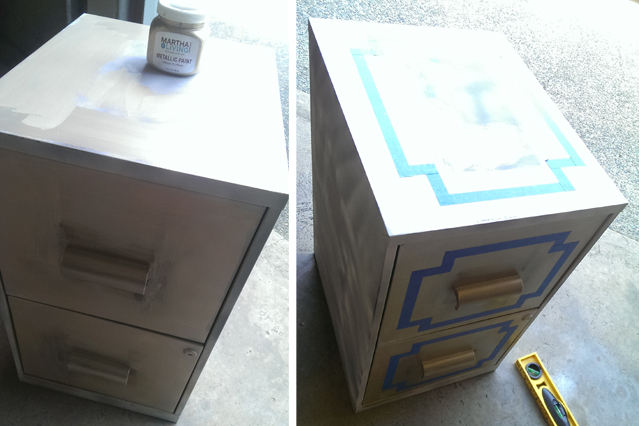 After the Gold Paint was dry I built my design with painters tape and then painted another coat of gold over which prevents bleeding and secures the tape..thanks Ashley you saved the day again with this crazy fun tip!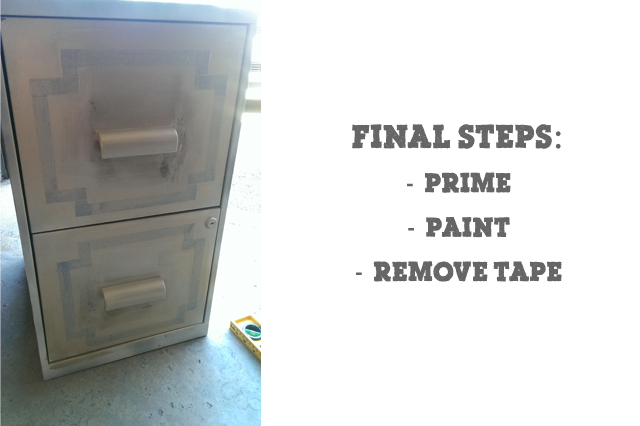 And Voila…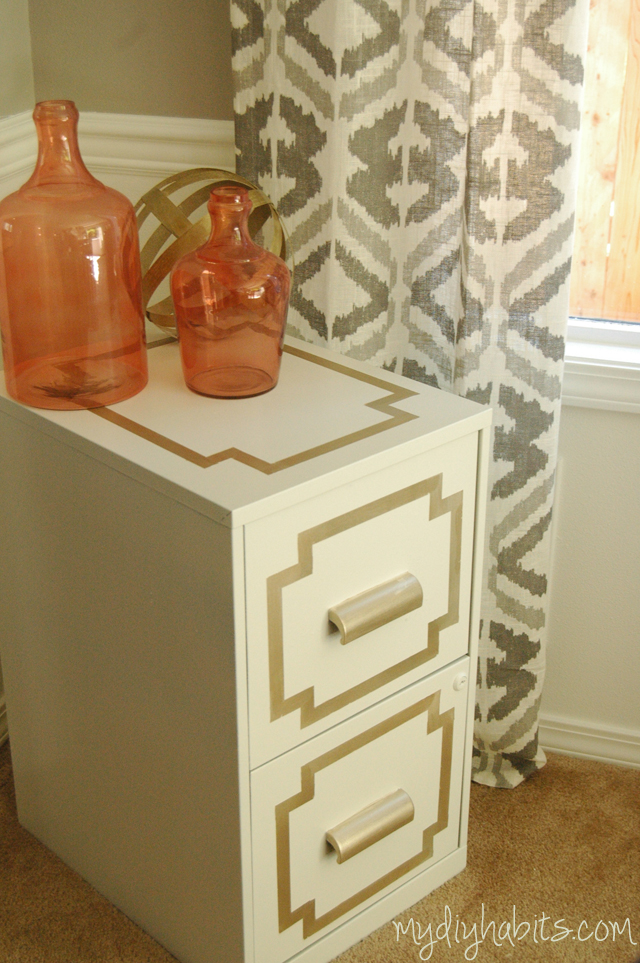 I seriously love this File Cabinet…I'm even contemplating using it as and end table.
Best part is we now have 2 drawers to hoard paper instead of the 1…so much for my lean filing system!