Here is a Quick little $5 fabulous project that I whipped up last week. I have had this on my "to do" list for ages! So here's the back story on this bad boy…we get ALOT of solicitors in our neighborhood….seriously a lot and for some reason they always seem to come knocking/ringing the doorbell (which sends out little Teddy nucular) right at 1:30 when I'm putting Savannah down for here nap which in turn makes her want to deflect naptime for another 20 minutes. All you mommies you know what i'm talking about…the water isn't in the right cup , she needs more milk and a little snack, her pull-up diaper is mini mouse put she really wanted tangled, she'd prefer her her fishie pajamas….etc etc. Really it goes on forever…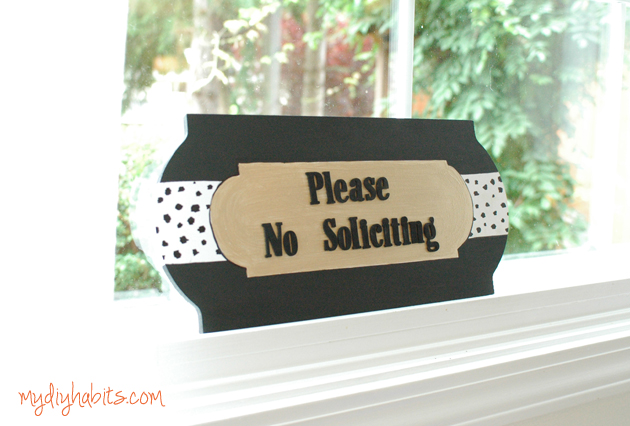 This sign was $3.99 at Ben Franklin and I used my large stash of Acrylic paint to decorate. The letters are from the scrap-booking section at Michael's and thanks to a sale they only cost $1 for a BIG pack! I used a black sharpie to make the dalmatian print ribbon….dalmatian so hot right now…wink.
So now that I have my new sign up…I'm hoping to deflect some the 1:30 doorbell ringing! And this looks a lot better then my hand written note that I had tacked up there for a few months…I'm just trying to keep it classy!