Well I truly can't believe it, the Den Fireplace is complete! I started this DIY madness of a project BEFORE I got pregnant, that is a year and a half in the making people! Now there was a pregnancy and baby that slightly complicated this projects trajectory…but in the end the results were worth the wait because this fireplace is EVERYTHING!!!
I now have two cabinets of storage that will no doubt be loaded to the brim with toys. The entire room is transformed and most importantly FUNCTIONAL!
As you can see from the Before and After below not much of the old facade was kept. We transformed the space in these steps…
enclosed dated brick fireplace with drywall
added a tile surround
DIY'd extensive mill-work and custom mantel
custom built cabinets and selves to flank fireplace
converted to a GAS FIREPLACE!!!
I use "we" loosely…I'm taking all the credit for this mammajamma of a project (Dad helped with the mill work trim and we did not DIY the gas fireplace conversion)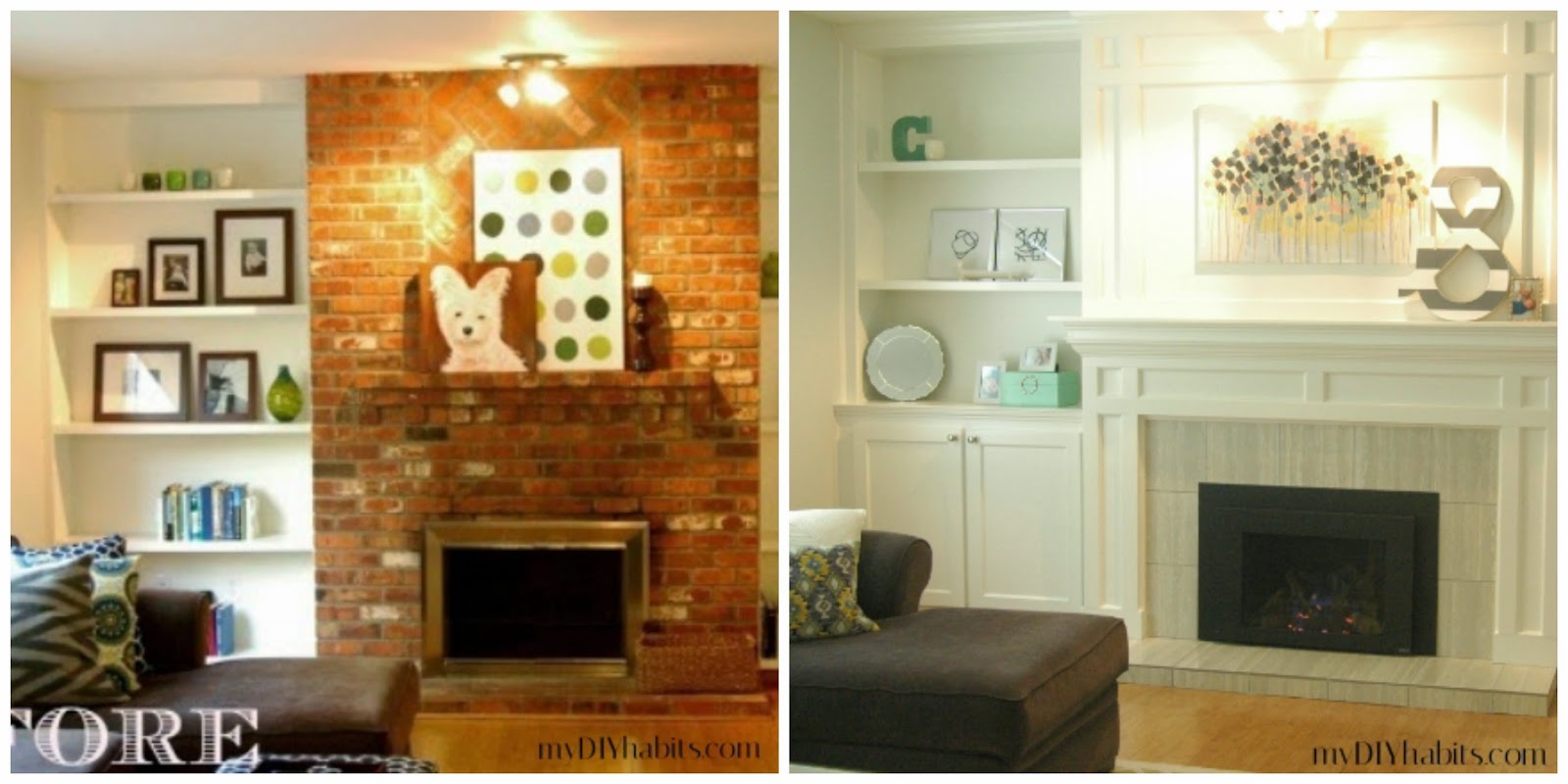 Below is a picture of the room when we purchased the house in 2012. The built-ins were just screaming to be kicked up a notch. Paint and more functional storage (and to any parent with young kids…closed door storage).

Below is the fireplace after we painted the shelves. I was not set on the look. The brick was well loved and no matter how hard we cleaned it, the soot and fireplace smell would not go away. The shelves…well there was just too many of them and the mantel was so small.
And here we are halfway complete. The fireplace was refaced by adding drywall, mill work and crown added, brick tiled over. But something was missing…the look was just not balanced, not dramatic enough and of course we needed functional storage.
And Here we have it. My Beauty. I am not going to lie and say I'm modest about this one. Oh Heck No, I tell everybody about this bad boy. No Shame in my Game…I get out my camera and MAKE them look! I've been nursing this project as long as a baby…so lets just say I'm one proud mama!
The tiles on the fireplace look a little creamy in this picture…they are much more grey in person…
my new storage…love, love, love
Can I get a woot woot for the new Gas Fireplace! So these things are NOT cheap to install/convert but for our house it was a total must. We spend so much of our day in this room and the living room (also converted to gas…more on that to come) it was outrageously expensive to heat our house in the winter. And with my asthma and two little kiddos the wood burning was just not practical.
obviously a new light fixture will be added…I just haven't found the right one!
Once will install new carpets in this room, I'll add some quarter round to the bottom of the tile and cabinets. Other plan is to get new audio/visual and move the cable outlet which you can probably see from the picture is popping out from under the cabinet :). And finally I need to get the shelves "staged" and loaded with decor!
Next week I'll post on a total project breakdown with pictures from every step of the process! I cannot wait to share with you how simple building these cabinets were!!!
Thank you all so much for stopping by, loves ya!!!