So as promised I have a quick little tutorial and recap on the new DIY Glam Garage Stairs which are also our very first $5 Fabulous Project!
Last Week I revealed here our new mini mudroom makeover.

And here is close up of the amaze-balls DIY Glam Stairs
Here is a quick before and after shot of the stairs. I serious love the new Greek Key pattern because the design is so unexpected for a garage! Plus it's pink..gotta love some pink…especially in the garage! When starting this project I spent way too much time hemming and hawing about what pattern to use but nothing at the craft store spoke to me. Plus I think Stencils are ridiculously overpriced…am I alone here people?!
So, instead of spending $10's on mediocre I opted for a custom designed stencil (that's code for I'm cheap and I made one myself).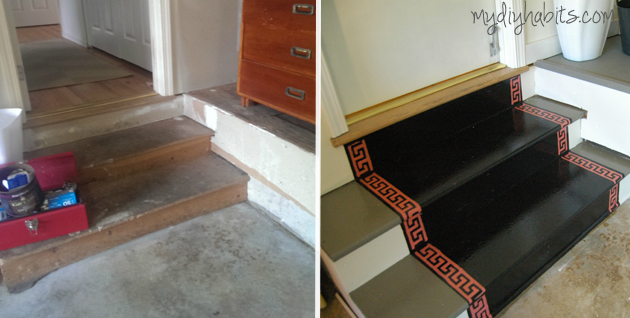 DIY Glam Stairs Supplies List and Cost Breakdown:
Blank Stencil Paper (to create your desired design) – $1.99 JoAnn's
Exacto knife = $0 owned
Image/pattern of choice
Stencil Brush = $0 owned (these run about $2)
Paint of choice for stairs = $0 owned
accent paint (stencil color) = $0 owned (I used leftover paint samples)
Polyurethane High Gloss = $0 owned
Total Cost: $2

DIY Glam Stairs How To:
1) First I painted my stairs the "main colors" Grey and White. Then I painted a black runner down the stairs – use frog tape to create a straight line. All the paint used was left overs (master bedroom, ceiling paint and front door). Yeah for left overs!

2) Next I Googled…ahem…Binged for images that I liked, enlarged it in Photoshop, then cut the design out of the blank stencil sheet using an exacto knife.
3) I used some frog tape to secure the stencil in place and then used my stencil brush to paint/dab on the pattern.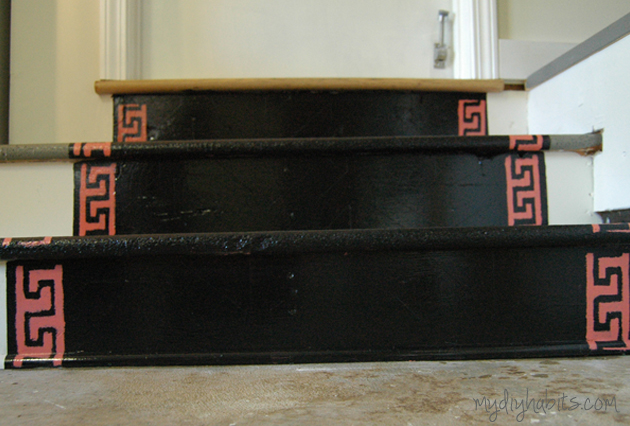 4) After the paint dried I applied 2 coats of a polyurethane high gloss finish. The new glossy look is also one of my favorite parts, kinda reminds me of a fabulous black lacquer finish!!
I anticipate that a lot of people are saying…"geez those stairs look like the'll get really dirty"…but actually the gloss finish makes them super easy to clean! Plus I'm the kind of person who wants to see the dirt…yeah I'm the freak who enjoys cleaning!