Finally I have something fabulous to share! Family Wedding + Sunshine in Seattle = no time to project, edit or write.
So remember back when I promised that I'd actually get some home improvements completed? I posted about our Garage Dreamin' weeks ago and I finally have 1 of the 5 projects complete!
Feels so good to cross off the To Do List…#1) Make a Mud Room
#2) Consolidate Storage
#3) Consolidate Utility Space
#4) Crazy Cool Work Station
#5) Insanely Sweet Workout Space
So welcome our new fabulous Mini Mudroom…we finally have a clean and organized place to drop our shoes, tools and what nots!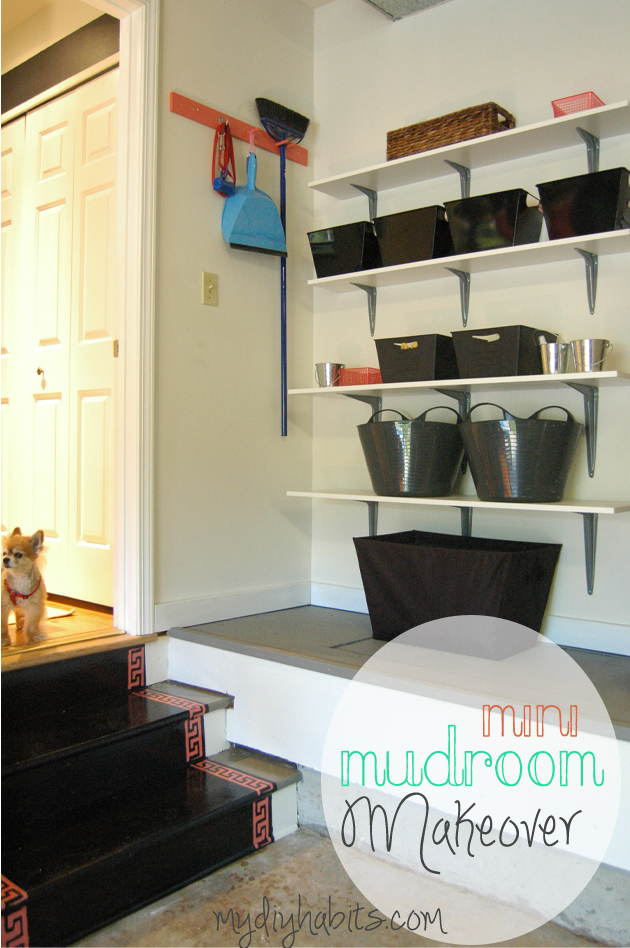 This space is totally transformed..check out the before and after. I don't feel like I'm rolling in dirt and cobwebs anymore!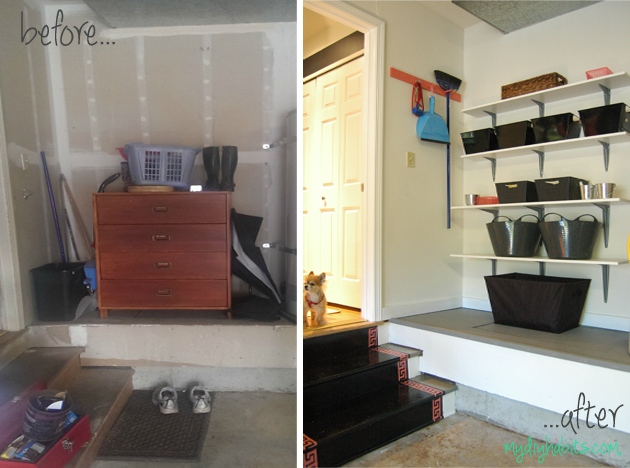 Mini Mudroom Project Recap:
Painted walls & Ceiling – White Dove Benjamin Moore
Painted "mezzanine" floor Chelsea Grey Benjamin Moore
Added 3 3/4″ Baseboard
Added corner molding to 90 degree angle on mezzanine floor
Painted Door and Door Molding Off the shelf white
Added new MDF Shelving
DIY'd Pink peg hook (these things are expensive..I made one with dowels and scrap wood for $5)
Painted Stairs UPDATE: Click here for How To
Added Storage Bins
The biggest constraint we had with this project was that the "mezzanine" is actually our crawl space so our transformation couldn't inhibit entrance. But with all the new cabinets I hope to add in phase 4's Crazy Cool Work Station I don't feel like I lost out on potential storage space.
The biggest bang for our buck in the room is the new white walls. It's amazing how bright a room becomes when you paint it white. Plus the spider webs are much more manageable when you can actually see them…can spiders smell fear? I'm pretty convinced after this project…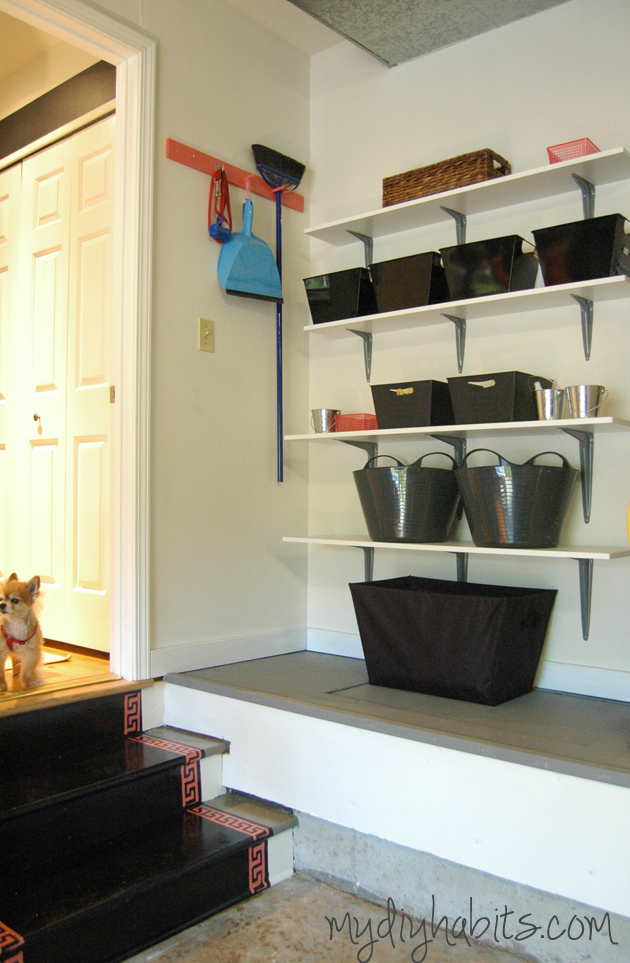 And lets be honest…any project looks fab with a stinking cute Teddy photobomb!
Next week I hope to complete and reveal phase 2) Consolidated Storage Space and Andy and I are going to get down and dirty by sealing and painting the Garage Floor…I'm so excited to get rid of 30 years of dirty and grime…this floor is getting reborn!