The updating in our Master Bedroom has been progressing, like molasses, but still moving. I had sincerely hoped that before I even got pregnant I would be close to complete on this bad boy. Maybe that goal was a little overly ambitious and not to mention I seriously change my "style mind" often which leads to constantly "re-homing" of things throughout the house! Rambling on…but point being is that in my crazy life I have to be OK with having ANY progress! So on that note I FINALLY have new Drapery in the master!
Yumm Yumm Yumm. Nothing new and outragous here, I'm not breaking the mold….just doing what I love! And that my friends is Greek Key ANYTHING! I just can't get enough. These are the Ritva Curtains from Ikea, hemmed to size, backed with dirt cheap black out fabric from JoAnn's and ironed on Greek key Trim from MJTrim. Ironed using Stitch Whitchery.
I think what I enjoy the most about these bad boys is the new blackout fabric. It keeps the room so nice and cozy in the early mornings! Which was especially great when the baby was sleeping in the room with us and we were both taking naps…ahh…naaapppss….I miss those….
So in case you forgot what our SAD master looked like when we moved in…here's glimpse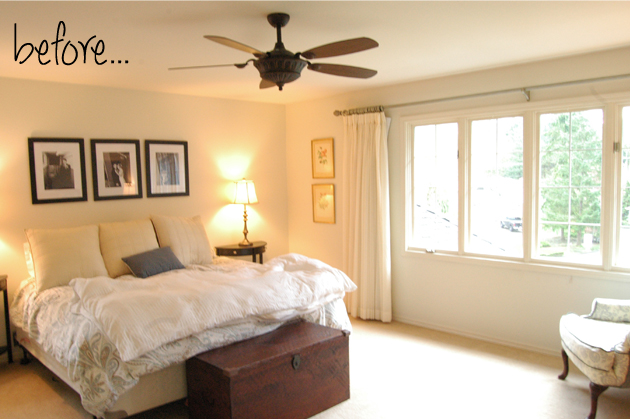 Check out the previous curtains (left when moved in). Such an improvement!
The trim was not exactly cheap (about $9/yard)…I'm sure the neighbors heard Andy GULP when I ordered, but the Ikea Curtains (about $40 for 2, I needed 4) combined with my mad sewing skills did offset the cost. And by mad sewing skills I mean = hemming curtains is seriously the easiest DIY project out there.
So while this wasn't a cheap DIY project, we did save a ton of money when compared to custom curtains. And when I signed up at MjTrim new customers get a 15% off coupon…. mamma loves coupons!
Thanks for stopping by, love yas!